Special Offer Holidays
Walt Disney World Florida Resorts
Disney's Caribbean Beach Resort Walt Disney World Florida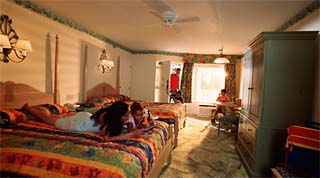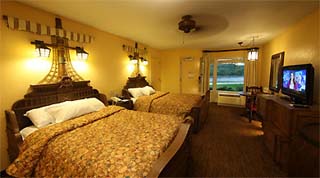 There is so much to do and see in the Walt Disney World Resort Florida that eventually you will need somewhere to simply kick back and relax, Disney's Caribbean Beach Resort is just the place.
The focal point of this 200 acre resort, the largest of all the Disney Resort hotels, is the splendid Barefoot Bay lake. Here you can hire a boat and spend a day on the water or soak up the sun on the sandy beach.
The Accommodation at the Caribbean Beach Resort is located in 6 individual villages, all named after Caribbean Islands and these blend in perfectly with the surroundings as all rooms come decorated with island prints and light furniture. There will be a selection of amenities available to ensure that you will feel like you are in a home away from home. This is a resort with the emphasis on relaxation and comfort, which means that there is a perfect way to turn off and put the stress of everyday life behind you when you are in the Walt Disney World resort. There is also an opportunity to visit the rest of the resorts so even if you fancy a break from relaxing on a Caribbean style beach, you do not have far to travel.
Onsite amenities are superb, Disney's Caribbean Beach Resort offers a choice of 6 heated pools, the fortress themed main pool has two huge waterslides, water cannons and childrens water playground. The resort also offers a wide choice of dining options, a good selection of shops and superb fitness facilities. There is also a marina in the resort which will rent out canoes and small boats. If you fancy getting off the beaten track, there is an opportunity to go on a nature trail, so there is something for everything at Walt Disney World.
Tips for Disney Caribbean Beach resort
When it comes to making the most of your trip, and to ensure you get some exercise during your stay, you will want to check out the brilliant range of boat and bike rentals available in this resort. These activities can provide fantastic family time while ensuring you have a great deal of fun and a bit of exercise. You do not need to pedal too fast if you do not want but there is definitely an opportunity to see more of the resort.
There is no getting away from the fact that the big appeal of the Caribbean beach resort comes in the ability to relax and unwind. Every village in the resort has its own swimming pool and there are plenty of cabanas and hammocks available to relax in. Anyone that is looking to feel slightly more energetic will be able to enjoy a game of beach volleyball but if your main aim is to take it easy, this is the perfect destination in Walt Disney World.
Dine the way that suits you best
If you are having a lazy beach holiday, you do not always want to have money with you on your person and you may find that some days you are happy to snack whereas other days you will want to enjoy a full meal. This is where the flexibility of the Disney Dining Plan can make all the difference in giving you the confidence and comfort that food will always be easily available for you. There is a wide range of dining options available for you in this resort and no matter what sort of meal or snack takes your fancy, there will be something that is perfect for your needs.
If you are looking to enjoy an early summer break to Walt Disney World resort in June, you will find that there are a number of options at your disposal. You should find that you can fly with Virgin Atlantic from London, Glasgow and Manchester, which provides a range of opportunities for people. Whether you want to head straight to the Caribbean Beach Resort or you are happy to see a bit more of America or Florida during your trip, this is the airline that is perfect for you.
Features of Disney's Caribbean Beach Resort
Swimming Pool
Children's Pool
Waterslide
Poolside Bar
Children's Playground
Restaurant
General Store
Gift Shop
Food Court
Video Games Arcade
Jogging Facilities
Lakeside Beach
Boat Rental
All of our offers and prices are subject to our terms and conditions and availability at the time of booking. Various travel dates apply, and offers are normally based on maximum occupancy for accommodation. If any offer is not exactly what you are looking for, or you would like alternative hotels/locations/airports, please contact us and one of our specialist travel consultants will create your holiday to suit your requirements.