Special Offer Holidays
Walt Disney World Florida Resorts
Disney's Polynesian Resort Walt Disney World Florida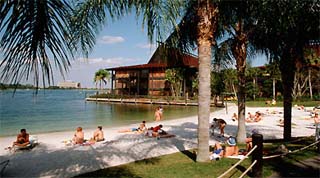 Set amongst beautiful tropical gardens and palm trees Disney's Polynesian Resort offers a taste of the South Pacific right in the heart of the Walt Disney World Resort Florida. Expect a warm, welcoming atmosphere and laid back vibe, the resort has very convenient access to the Disney theme parks via the Disney Monorail but once settled it can be difficult to drag yourself away from this wonderful resort.
The Great Ceremonial House is the resort's main building and home to impressive Polynesian architecture, an amazing variety of tropical plants, musical entertainment, dancing and a great selection of shopping and dining venues. Disney's Polynesian Resort is also home to Disney's Spirit of Aloha dinner show where you can enjoy a fantastic show of dancing, fire breathing and family comedy.
The guest rooms have a Polynesian style theme with bamboo and wicker being prominent throughout the accommodation. All of the rooms have air conditioning in them and each bathroom has a stylish marble finish. There is a great deal on offer at this resort with respect to facilities and you should be able to enjoy an authentic taste of the Polynesian when you stay here.
Tips for Disney Polynesian Resort
If you are adventurous, you will want to try out the surfing and parasailing activities available at this resort. There is a great emphasis on fun and the combination of activities that involve the sea and the air should provide plenty of holidaymakers with the chance to have a great time on their holiday.
If you have kids and you want them to have the best holiday, you will be delighted with the Nervaldn Club. This club is set up for kids aged between 4 and 12 and it is based around the classic story of Peter Pan. This club will ensure your youngsters get a great holiday that is designed around them while giving yourself some time to relax and enjoy yourself.
Dine around your schedule with Walt Disney World
One of the most important things on any holiday is making sure that you have enough food and drink. It is important to stay properly hydrated and to ensure that you are taking in enough sustenance to keep you going. This is definitely where families need to plan ahead but the Disney Dining Plan can take a lot of the stress and hassle out of eating and drinking. This dining plan ensures you do not need to have cash on you to eat and there is a wide range of places where you can dine with these cards so there will be no shortage of dining options. The Polynesian resort is an ideal base for many other resorts at Walt Disney World, it is located just 10 minutes from the Magic Kingdom, and parents will be delighted to know that the plan can be used around the resort.
If you are coming to Walt Disney World in October, you have to check out the extensive range of Halloween activities. With the Polynesian resort being located so close to the Magic Kingdom, you will have plenty of opportunity to see everything that is on offer, including the fireworks and the parades that Disney is known for at this time of year. There is always something magical in the air at Disney no matter when you travel but there is definitely something special to look out for when you visit Walt Disney World in October.
Anyone looking for a great range of flights to Florida should check out what United Airlines offer, as they can provide affordable and reliable flights to this part of the world at this time of year. When you want to get great value for your once in a lifetime holiday, there is a lot to be said for finding great value flights.
Features of Disney's Polynesian Resort
Swimming Pool
Children's Pool
Waterslide
Kid's Activities Club
Restaurant
General Store
Gift Shop
Lounge
Bar
Fitness Centre
Video Games Arcade
Jogging Facilities
Lakeside Beach
Boat Rental
All of our offers and prices are subject to our terms and conditions and availability at the time of booking. Various travel dates apply, and offers are normally based on maximum occupancy for accommodation. If any offer is not exactly what you are looking for, or you would like alternative hotels/locations/airports, please contact us and one of our specialist travel consultants will create your holiday to suit your requirements.